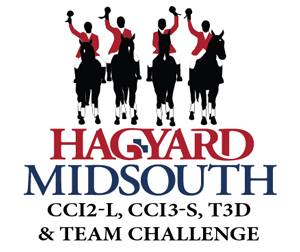 Hagyard Midsouth Three-day Event | Lexington, Kentucky (AREA 8) USEA Event ID: 18067
Event Date: Oct 19 - 23, 2022
Open Date: Sep 6
Close Date: Oct 4
We will be running under the most current USEF Covid Guidelines. We also will be running under the most up to date FEI biosecurity guidelines.
Directions:
Address: KHP, 4089 Ironworks Pike, Lexington, KY 40511. Kentucky Horse Park: North of Lexington: Exit 120 off I-75. Enter Park at Main gate & drive to stables.
Divisions
USEF Endorsed/USEA Recognized: T3D,T,N,BN
USEF/USEA Recognized: CCI2-L,CCI3-S,I,P
Tentative Schedule:
Tues: 10am-6pm - Arrival Exams begin; Wed: 9am - Arrival Exams continue; 1:30pm - First Horse Inspection ( CCI2-L, T3D); 3pm - CCI/I/T3D XC Courses Open Thurs: 8:00am - Dressage (CCI divisions); 3:00pm - OP/OT/ON/OBN XC Courses open. 5:30pm - Rider Meeting (CCI divisions) T3D - Education Clinics all day Fri: 8:00 am - Dressage(I/P/T3D/T); 8:30am - XC (CCI3-S, CCI2-L, I); 3:00pm - Stadium (OP/OT); Sat: 8:00 am - XC (OP/T3D/OT); 8:00am - Third Horse Inspection (CCI3-L, CCI3-S, CCI2-L); Dressage (ON/OBN); 9:00am - Show Jumping & Awards (I/CCI3-S, CCI2-L); 3:00 pm - Stadium (ON) Sun: 8:00 am - XC - (ON/OBN); THIS SCHEDULE IS EXTREMELY TENTATIVE. PLEASE CHECK OMNIBUS PAGE AND WEBSITE FOR DAYS/TIME CHANGES.Please refer to www.kyevents.net for updates &/or changes.
Starting Times:
STARTING TIMES AND STABLING ASSIGNMENTS: Available October 15th online at: www.kyevents.net
Event Officials
TD: CCI3*/CCI2*/I: Wayne Quarles USA; Asst TD: Shelley Ryan(USA) TD: P/T/N/BN: Shelley Ryan, KY Judges:FEIPres:Karen Winn, USA Member: Debbie Boeh, OH, Julie Congleton, KY National Pres: Matt Trynoski, IL Dressage Judges:Janice Holmes, OH; Maureen John, KY; Paula Briney, IL, Sophie Bayer, KY SJ Judge: Jeri Matheny, KY CD: XC: Jay Hambley; Asst CD: Mary Fike, KY; SJ: Brody Robertson FEI Steward: Christine Hayner (USA); Asst Steward: Fran Cross(USA) FEI Veterinarian Delegate: Lisa Borzynski, DVM, USA
Entry Information
Send Entries to:
ELECTRONIC ENTRIES ONLY! We accept ELECTRONIC entries from Xentry and EventEntries. All entries must be paid by Credit Card. All signatures completed with XENTRY or EVENTENTRIES, there is no need to print and mail your paperwork. No entry will be accepted until all signatures are complete. Anna Robinson, Show Secretary Email: midsouthteamchallenge@gmail.com All communications about entries should be made to the secretary, Erin Murphy, through email.Do not use the Event's Facebook page oe messenger to communicate questions regarding your entry in the event. Event website www.kyevents.net for more info. PLEASE EMAIL THE SECRETARY YOUR TEAM MEMBERS' NAMES AND YOUR TEAM NAME, NO LATER THAN SEPTEMBER 13th. Entries with no team name will be assigned teams at random.
Organizer:
Org: Mary Fike, 914 Harrington Mill Rd., Shelbyville, KY 40065 email: hmf@igLou.com. Competition Management: Mary Fike, as above.
Fees:
Attention US riders: Entries for ALL FEI competitions must be submitted to the FEI through the USEF online entry system https://www.usef.org/_AUAIFrames/FEI/Entry/Default.aspxor they will not be considered complete. There is no fee to submit an entry through this system. Athletes MUST also enter the events (and pay the entry fees) through the normal entry process. Please also pay close attention to the closing date in the FEI Definite Schedule. Foreign riders need to contact their National Federation. Event Fees Directory - see individual section for details. Riders Please Note: An entry is considered complete on the date when paid. Any entry received without payment is not considered an entry. Any entry notcomplete at Close Date, including all fees due, will be removed from the Entry List and added to the bottom of waitlist for the applicable level of competition. Late Charges of $50 will apply to this entry in order to re-enter the event should an opening occur. Please check the fee calculation for your entry carefully. Computational errors, or errors triggered by automated entry processes, which result in a refund due, will be charged a $25 handling charge. Should the difference remaining in the refund total be $10 or less, the remainder will be donated to the XC jump fund. Entry: CCI3*/CCI2*: $490.00. T3D: $395.00 HT: $275.00. Stabling: $50.00 per night Non-Compete Horses: $50.00 plus stabling. Early Arrivals/Late Departures: $60.00 per night as the KHP charges more. You must email the Secretary to confirm availability before arriving. KHP Footing Fee: $10.00 per horse. A one-timeperhorse $10 facility footingfeeis being charged by KHP. Please include this with your entry. KHP Facility Fee: Non-stabled Horses: $50.00 per day. Changes: $60 each change made after closing date. This includes stabling changes. Late Entries: If accepted after closing date, include a $150 late fee. Coggins within 12 months required. Health papers within 30 days should travel with horses. Please communicate by email. $60 charge for bounced checks. Mathematical errors on your entry resulting in refunds of $10 or less will be donated to the XC jump fund. Camping: We do not handle camping reservations even if available as an option on an electronic entry portal. Please see below for more information on camping. WE ACCEPT ELECTRONIC SIGNATURES FROM XENTRY and EVENTENTRIES. If you enter and pay in full , there is no need to print and mail your paperwork Entries After Close: Event website and Facebook page will state on the Close Date whether entries will continue tobe accepted. The extension date will be specified, and only COMPLETE entries with ALL FEES will be considered. ALL payments received after Close must be paid via credit card. Refunds: Before C.D.-Less $25 non-refundable office fee; After C.D.-Entry-No refund unless spot can be filled. USEA Starter/D&M Fee Refund Policy: The USEA Starter/D&M fee ($25), is not subject to office fees, and shall be returned within 30 days of the competition to any rider who does not start the dressage test. Competition cancellation prior to start of competition- As expenses allow. Reminder: All USEF Life and Senior Active members, as well as participants who have regular contact with minor athletes, are required to comply with the U.S. Center for SafeSport training requirement, to be eligible to participate in the competition. All participants must adhere to the U.S. Center for SafeSport Code, USEF Safe Sport Policy, and the Minor Athlete Abuse Prevention Policies. More information about these can be found at www.usef.org.
Entries:
All entry fees include a $25 non-refundable office fee. Double entries: Not accepted.Please bear in mind that when you pay by CC online, your card will be charged immediately. There may be delays in refunds due because the online entry portals do not have CC charge back capabilities and we must wait for payment from USEA or EventEntries. Please see event website for further information. USEA membership is required at all levels.Horses competing must be registered with USEA. USEF full membership required for Rider, Owner, Trainer at Preliminary Level. FEI registrations and passports must be current for CCI divisions. Refunds: Before C.D.-Less $25 non-refundable office fee; After C.D.- As expenses allowed. Waitlist number on Startbox is NOT your waitlist number, this is a dummy tracker and can not be turned off.Horse or Rider (not both) substitutions within level only. Scratches will be filled only from the wait list. Changes: $60 each change after CD (including stabling changes), as schedule and room permits. All withdrawals must be in writing by email to Secretary by 9 pm of C.D. No phone or Facebook messages accepted. Competition cancellation prior to start of competition- As expenses allow divided equally among all competitors entered at the time.Neg. Coggins required within 12 months for all horses.
PLEASE NOTE THIS EVENT FILLS QUICKLY: ENTRY STATUS posted online at www.kyevents.net Check often for updated information.
No changes after October 12th.You MUST email the Secretary with Team Members' names and Team Name not later than SEPTEMBER 14th.
Please read Team info below!
Competitor Information
Awards:
CCI and HT Individual placings: Trophy & 10 ribbons. HT: Team placings : 1st - 8th.
Stabling/Veterinarian:
Stalls & Tack Stalls: $50.00/night. NOTE:If you wish to stable together,you MUSTprovide a name at time of entry. For large groups,A GROUP NAME OR STABLE NAME must be on the form at time of entry. THIS IS THE ONLY WAY TO ENSURE YOU ARE STABLED TOGETHER. Any stabling forms with no special requests, will be assigned stabling at the Stable Manager's discretion. Please check your stabling requests often at www.kyevents.net. CCI horses will be stabled together, along with any other horses ridden by these competitors. All other requests to be stabled with these horses will be honored as nearby as possible. ANY STALL CHANGE REQUESTS MADE AFTER CLOSING DATE WILL INCUR A $60/CHANGE FEE. No changes will be made to stabling after OCTOBER 12th. Anyone caught using a stall that was not assigned to them is subject to a fine of $50.00. If sharing a tack stall, please put all names sharing said tack stall on the stabling request form. Non-comp horses: $50 plus stabling. 800 permanent 10' x 10' stalls on grounds. Stall doors only provided. Feed/Bedding/Hay/Mats/Paddock/Golf Carts: Devers, Inc.(859) 233-9702, www.deverinc.com. Veterinarian: FEI Vet Delegate: Lisa Borzynski, DVM - USA. Treating Vet: Hagyard Equine Medical Institute. # posted at Show Office.
Accommodations:
Host Hotel:Residence Inn by Marriott, Newtown Pike (859-231-6191) 8 mi. Special rate until Close Date - ask for Team Challenge Rate! Many other hotels in N. Lexington area as well as in Georgetown which is 8 mi. north of the park. Camping: Kentucky Horse Park Campground. Now accepts advance reservations. Call 888-4KY-PARK for reservations or go to www.parks.ky.gov. for more info.
Dressage:
Test and Arena Size: CCI3-S: 2022FEI Three-star Test A-Std. CCI2-L: 2022FEI Two Star Test A - Std.HT: OI- USEF 2022 Intermediate Test A - Std.OP- USEF 2022 Preliminary Test A-Sm T3D: USEF2022 Training Three Day Test-Std.OT: USEF 2022 Training Test A-Sm. ON: USEF 2022 Novice Test A-Sm. OBN: USEF 2022 Beginner Novice Test A-Sm. Arenas: Sand.
Cross-Country:
CCI3-S :3025-3575m @ 550mpm;CCI2-L:3640-4680 m @ 520mpm.HT: OI - 2600-3575m @ 550mpm;OP-2200-3120m @ 520 mpm. T3D: A- 2200-3250 m @ 220mpm; B- 1250-1560 m @ 520mpm; C-2400-5500m @ 220mpm; D-2350-3290m @ 470mpm;OT-2600m @ 470 mpm. ON-2200m @ 400 mpm. BN-2000m @ 350mpm. All courses: Moderate to Challenging. Open rolling terrain. Good galloping courses with water, ditches & banks and combinations at all levels. Fences will be up to division height and spread specs. on all courses. Expect a 3 element coffin at P and T, as well as an open ditch on Novice and Beg. Novice. Cross-country course closed. Courses will be aerovated and watered as needed.
Other Information:
Cross-country course closed. Food & Trade Fair on grounds. Dogs must be leashed. Qualified entries postmarked Opening Day will be given acceptance priority. Please bring a copy of USEF or CEF card. CCI Riders and horses must have current FEI registration numbers. Entries for ALL FEI competitions must be submitted to the FEI through the USEF online entry system https://www.usef.org/_AUAIFrames/FEI/Entry/Default.aspx or they will not be considered complete. There is no fee to submit an entry through this system. Athletes MUST ALSO enter the event (and pay the entry fee) through the normal online entry process and the Opening & Closing dates apply. Team Entries: This event fill quickly! Entries Time Stamped on Opening Date have the best chance of acceptance. The date paid online will be considered your postmark date.Your entry must be complete and received on Opening Date to be eligible for the draw if the event is over subscribed on Opening Date. Complete entries timestamped after Opening Day will be accepted in the order they are received and as space allows.You MUST email the Secretary with Team Members' names and Team Name not later than SEPTEMBER 13th.Individual entries accepted as space allows and will be put on composite teams to fill empty spots on teams by Event Management. All divisions are Open divisions. Teams may consist of Jr. and Sr. riders. No one may ride more than one horse on a team. They may ride additional horses on other teams.Please note: Promissory emails will not be considered an entry and spots on teams will not be held. Any listing of Waitlist number on Startbox is a tracking number and not a true Waitlist number. If you wish to stable together,you MUST provide a name at time of entry. For large groups,A GROUP NAME OR STABLE NAME must be on the form at time of entry. THIS IS THE ONLY WAY TO ENSURE YOU ARE STABLED TOGETHER. Any stabling forms with no special requests, will be assigned stabling at the Stable Manager's discretion. CCI horses will be stabled together, along with any other horses ridden by these competitors. All other requests to be stabled with these horses will be honored as nearby as possible. ANY STALL CHANGE REQUESTS MADE AFTER CLOSING DATE WILL INCUR A $60/CHANGE FEE. ABSOLUTELY NO CHANGES AFTER OCTOBER 12 and will only be made if possible. Notes: Go to www.kyevents.net/khpinfo for important Park policies. Please provide legible Email for communications and questions. Check website www.kyevents.net and Event Facebook page for additional updates and information. Disclaimer: The official FEI Schedule (https://data.fei.org/calendar/search.aspx) supersedes information found on this prize list. EV114 Dress 1. PROTECTIVE HEADGEAR. a. At all levels of eventing competition, from beginner novice through advanced, at Federation Endorsed competitions and recognized competitions, riders must wear headgear as follows, except as may otherwise be mandated by local law (see also GR801): b. Upon arrival, anyone riding a horse must wear properly fitting protective headgear which passes or surpasses ASTM (American Society for Testing and Materials)/SEI (Safety Equipment Institute) standards for equestrian use and carries the SEI tag. Harness must be secured and properly fitted. "Every class offered herein which is covered by the rules and specifications of the current USEF rulebook will be conducted and judged in accordance therewith."
USEA/USEF Competition Material and Helpful Links:
Submit an Evaluation for this Event
• Omnibus Term Key • Dressage Tests • Entry Forms: Xentry | H.T. | FEI | YEH/FEH/NEH • Stabling Form • Join the USEA (PDF) (Online) • Register Your Horse (PDF) (Online) • Find a Certified Eventing Instructor • USEF Rules for Eventing
USEF Membership Requirements, Licensed Drivers on grounds/Golf Cart Rule & USEF Federation Page (Read More...)